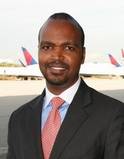 About Reynaldo
Reynaldo has a diverse professional background with over 20 years of experience in aviation, financial services, marketing, and general management. He joined Delta in 2007 and has held multiple roles of increased responsibilities in Finance, Marketing, TechOps, Supplier Operations, and MRO Services.
In his most recent role as Director of Global MRO Operations at Delta TechOps, Reynaldo is responsible for managing the operations and service delivery for all maintenance, repair, and overhauls completed for third-party customers. In addition, he's responsible for leading all quantitative analysis, performance metrics, and financials for the group - helping the airline and its customers achieve superior, "world class", operational performance on safety, quality, reliability, cost, and turnaround time.
Reynaldo's passion for aviation allowed him to earn his Private Pilot's license, Instrument Rating, and Airframe and Powerplant license before the age of 20. When Reynaldo is not working, he is usually jet-setting around the world. He has visited over 90 countries and logged more than 700 flights.
Prior to joining Delta, Reynaldo spent the first part of his career in Wall Street; working at various financial services institutions such as Standard & Poor's and Thomson Reuters. Reynaldo holds a Bachelor of Business Administration from Hofstra University and an MBA from the University of Virginia's Darden School of Business.