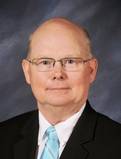 About Barry
Barry Allen has 32 years of aviation experience driving his success as Manager, Material Services for AMES a subsidiary of ATSG, Inc. located at the Wilmington Air Park in Ohio. Barry assumed his role as manager in May 2016 and has been setting sales records with his staff ever since. Barry's team is responsible for an extensive inventory of aircraft parts that are marketed to internal and external customers.
The success of the Material Services Division at AMES has been attributed to the knowledge of aging aircraft and being prepared for upcoming maintenance requirements. This can be through consignment, tear down, or repaired parts. Barry began his Material Services career as a Store Keeper and worked through various sales positions. This career path equipped Barry with an extensive knowledge of aircraft parts that provides the leadership to this team and unsurpassed service to his customers.
Barry resides on his family farm in Sabina, Ohio with his wife Mary Ann where they raise corn and soybeans. They are the parents of five children, nine grandchildren, and two great-grandchildren. Barry has served as an Elder for the Sabina Church of Christ for more than 11 years and enjoys being part of a small farm community.