Before Heading to ASA 2014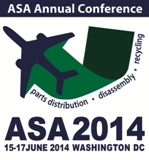 We are excited to see you next week in Washington DC! Below are a few details before you go.

Onsite Registration is Available - Download registration form and go directly to the registration desk. (payment must be provided at time of registration)

View Full Program for Schedule of Events - FULL 2014 Program
Getting to the Hotel:
As a Reminder:
Sunday 15, June
- Quality Committee Meeting begins at 8:30 am.
- Conference Registration begins at 2:00 pm on the Mezzanine (landing between lobby level & ballroom level)
- Welcome Reception goes from 5:30 pm - 7:30 pm in the Ballroom Foyer

Monday 16 June
- Continental Breakfast begins at 7:00 am in the Ballroom Foyer
- Opening General Session begins at 8:00 am in the Grand Ballroom

Attire:
All Educational Events - Business Casual
Sunday Welcome Reception - Business Casual
Monday Banquet Dinner - Business

Training Certificates:
Training certificates will be provided at the end of the conference. Don't forget to pick up your training certificate before leaving!

ASA/AFRA:
All registered attendees, regardless of registering through ASA or AFRA are able to attend ALL ASA/AFRA educational and networking events. The only exceptions are the respective Members-Only meetings and anything that requires a separate RSVP for entry.
---