Why the ASA AFRA Conference?
The ASA AFRA Annual Conference continues to be THE premier event for the aviation distribution and distribution & recycling community. Each year ASA AFRA provides attendees with a variety of business development, management, quality assurance, legal/regulatory, and general industry topics; in one all-inclusive and engaging event! Boasting an environment that offers ample one-on-one interactions with all attendees, exhibitors, and speakers, this event is more intimate and manageable than many of the other industry meetings. Attracting aviation professionals from around the world, the ASA AFRA Annual Conference brings a great range of attendees each year. Companies represented at the meeting include domestic and foreign air carriers, OEMs, suppliers, repair stations, distributors and more!
The program includes:
General Sessions - Comprehensive assessments of the state of the industry.
Workshop Series - In-depth analyses of specific business management, quality and legal issues.
Marketplace - Vendors showcasing items ranging from current inventory to innovative technology.
Networking Events - Multiple receptions, and day-to-day breaks & lunches.
Location, Full-Service Hotel, Great Rates, and Amenities
The ASA AFRA Conference will be held 23-25 June 2024 at the JW Marriott Camelback Resort & Spa in Scottsdale, AZ.
Room Rate is: $199, and a resort fee of $25.00 per day (discounted from $48.00) along with applicable taxes will be added to the guest room bill.
The hotel is working on the exclusive ASA AFRA reservation link.
One Price, Two Aviation Events!
Once again ASA is pleased to have its event co-located with the Aircraft Fleet Recycling Association (AFRA) Annual Meeting. All ASA 2024 attendees are welcome to attend the AFRA 2024 related seminars and networking events at no extra cost. The AFRA events will coincide with ASA Annual Conference events giving attendees the best of both worlds with just one admission fee!
Event Agenda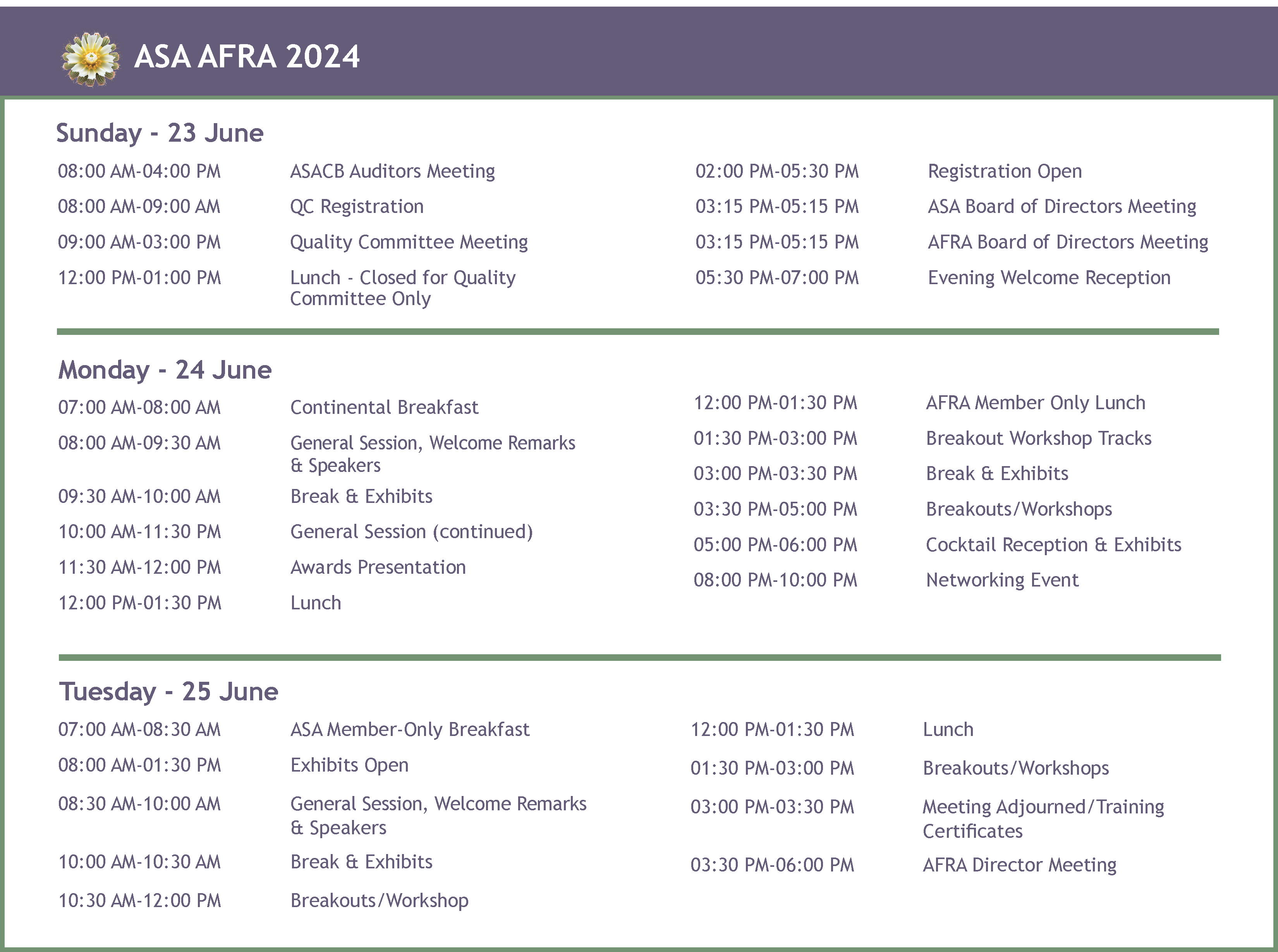 WHAT PEOPLE ARE SAYING ABOUT THE ASA AFRA ANNUAL CONFERENCE?
"Enthusiastic, Informative, Knowledgeable Speakers who are Up-to-date on Industry"
"Great Networking Opportunities!" "Very Informative and Helpful!"
"Well Organized!" "Excellent as Always!" "Great Information!"